Red Ribbon Week Oct. 23-27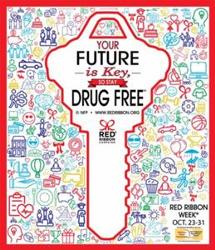 Red Ribbon Week is the week of Oct. 23-27. The theme this year is, "Your Future Is Key, So Stay Drug Free!" This is how we will dress each day:
Monday, October 23 – "Put Drugs to Sleep!" Wear your PJs to school.
Tuesday, October 24 – "Too Classy for Drugs!" Wear dressy clothes.
Wednesday, October 25 – "Give Drugs the Boot!" Wear western clothes.
Thursday, October 26 – "Stick Together, Don't Do Drugs!" Twin day, dress like a friend or a group of friends!
Friday, October 27 – "Put Drugs to Bed!" Stay in bed today, there is no school!!!!!