Welcome to VEX Robotics!
Need to know Information
How to sign up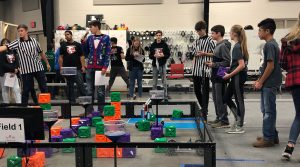 Students, if you want to participate in the Robotics Club for the 2019-2020 season, please sign up using the following Google Form. Note, you will have to log in with your school email. If you don't have one, please see your teacher or Mr. Moseley. Space is limited. We will have a selection process based on certain criteria such as grades, interest, availability, etc.
What is the VEX Robotics Competition
In the VEX Robotics Competition, presented by the Robotics Education & Competition Foundation, teams of students are tasked with designing and building a robot to play against other teams in a game-based engineering challenge. Classroom STEM concepts are put to the test as students learn lifelong skills in teamwork, leadership, communications, and more. Tournaments are held year-round at the regional, state, and national levels and culminate at the VEX Robotics World Championship each April!
Robotics Coaches
David Moseley, Technology Director
Laura Smith, Jr. High Math Teacher
Robert Smith, Maintenance Director
Robotics Practice
Practice times for the 2019-2020 school year are during lunch/activity period and before and after school in Mrs. Smith's classroom.  If you want to participate in robotics, you need to be at practices. If you have a conflict with athletics or another club, don't try to do both if you don't have time. Robotics is a lot of work, but it's a lot of fun as well. 
Behavior and Expectations
Robotics is a professional club. You are expected to act decent, follow directions, be helpful and follow good sportsmanship. We will not tolerate horseplay, laziness, rudeness, or poor sportsmanship in practices or at events. You are representing your school and you are representing yourself. If your grandmother or your pastor wouldn't approve of your actions, we don't need them in robotics. We will have a three strikes and you're out policy that we will discuss during practice. 
Calendar of Events
Note: More events may bed added soon. 
| | | | |
| --- | --- | --- | --- |
| Date | Teams | Event | Location |
| 10/31/2019 | Spectate | REG 10 VRC Tournament | Richardson |
| 11/7/19 | A | Tiger Nation Premier League 3 -1 | Terrell |
| 11/14/19 | A | Tiger Nation Premier League 3 -2 | Terrell |
| 11/21/19 | A | Tiger Nation Premier League 3 -3 | Terrell |
| 12/3/19 | A, B | Tower Takeover Weekday Event | Greenville |
| 12/12/19 | A | Tiger Nation League 3 Championship | Terrell |
| 1/9/20 | A, B | Tiger Nation Premier League 4 -1 | Terrell |
| 1/23/20 | A, B | Tiger Nation Premier League 4 -2 | Terrell |
| 1/30/20 | A, B | Tiger Nation Premier League 4 -4 | Terrell |
| 2/13/20 | A, B | Tiger Nation League 4 Championship | Terrell |
| 2/8/20 | A, B | Hudson Robotics Tournament | Sachse |
| 2/22/20 | ? | Texas Region 2 VRC Championship | Terrell |
| 3/26/20 | ? | REC Foundation State Championship | Mesquite |
| 4/22-25/20 | ? | Vex Worlds 2020 | Louisville, KY |