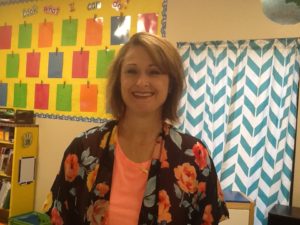 Hello and welcome to Pre-K 4!  My name is Mrs. Stacey McDonald and I am thrilled to have your child in my class this school year!  This will be my sixteenth year to teach at Miller Grove and my thirteenth year teaching Pre-K.  I am an 1991 graduate  of Miller Grove High School and a 1998 graduated of Texas A&M Commerce.  I hold a bachelors degree in Social Work, as well as, an Alternative Teaching Certification.  I have been married to my husband Paul for 26 years and together we have three sons and the sweetest baby granddaughter.   I am also the grandma of a very rotten 70lb lab name Sadie.   I enjoy cake making and decorating, and like to make people happy through my cooking and baking.  I am also a flower junky!  I enjoy working in my flower gardens and love to have fresh flowers around.  I am looking forward to a wonderful year!  Thank you so much for entrusting me with the care and education of your most valued possession.   Together we will make this year a safe and memorable one  for both you and your student.  Please always feel free to email me at smcdonald@mgisd.net or call me at 903-459-3288 ext. 302 during my conference, 9:10 -9:55 am, if you have any questions or concerns. We will also communicate by using your child's take home binder and conferences throughout the year as needed.
MY FAVORITES: Food: Mexican, Movie: Sweet Home Alabama, Book: Charlotte's Web, Color: Yellow, Drink: Coffee, Season: Fall, Sports Team: Hornets, Fast Food: Braums, Animal: Any (except snakes), Hobby: Baking/Decorating Cakes
Information to keep in mind:  Breakfast: Breakfast for Pre-K students is free. Breakfast begins at 7:30.  Lunches: Lunch for Pre-K students is free. Your child may either bring his/her lunch from home or eat lunch from our cafeteria.  Extras:   Juice $.30, Milk $.50, Fruit/Vegetables $.75, Entrée $1.75  Please know that according to new food guidelines, pre-k will only have the option to have plain milk.  Chocolate or strawberry milk will no longer be available to them. 
First day of school: Please drop your child off at the front of the double doors near the cafeteria. There will be an adult to guide your child into the cafeteria.  As a parent, I know this may be difficult, but this truly works best for your child. Be sure to give hugs and kisses.  I promise your child is going to do great! 
Pick-up and Drop Off: Students are to be picked-up or dropped off in front of the double doors near the cafeteria building. When picking students up, please remain inside your car and we will bring your child to you. If your child is going home in a different way than usual, please send a note or call the office before 3:00 pm.
Money: If you are sending money for any reason, please place it in your child's binder inside the binder zipper pouch with a note telling me what it is for (ex. Lunch, snack, Kona Ice, Field Trip, Shirts, etc.)
Extra Clothes: Please send an extra change of weather appropriate clothes with your child (socks, underwear, shirt/sweater, shorts/pants).  Even though your child is potty trained, accidents can happen.  Student's extra clothes will be stored in their cubby inside the classroom.  If your student has an accident,   please send more clothes to replace them.  Having extra clothes at school will help avoid me calling you and interrupting your work day to bring clothes. 
Nap Mat and Blanket/Towel: Nap mats will stay in our classroom throughout the year and sanitized every Friday.  Blankets/towels will be sent home every Friday to be washed and returned on Monday.  Please write your child's name on their nap mat and blanket/towel.
Snack/Water Bottle: We will have an afternoon snack daily. Your child may either bring his/her snack from home or pay $3.00 every week for snacks we provide. Please send a water bottle for your child.  We will refill it with water as needed.  Water bottles will be sent home every Friday to be washed and returned on Monday. Please write your child's name on their bottle.  Remember we can not use the water fountains at this time so having a water bottle is a MUST!
Absences/Tardies: If your child is out sick or has a doctor's appointment, please send a note/doctor's release to the office. All absences require a note before returning to class. If your child is tardy, please check your child in at the office before sending them to class.
Behavior Plan: In our class we use a green choices and red choices classroom management system.  Students who make green choices are rewarded with prizes from the office once their punch card is filled.  All students receive many chances throughout the day to change behavior before moving their clip to red.  Red choices will lead to sitting out, missing fun activities, or possibly going to see Mrs. Fox.  If you have any questions regarding the classroom rules and disciplinary procedures, please do not hesitate to ask.   
My door is always open.  I look forward to working together to ensure a successful year for your child. 
Sincerely,
Mrs. Stacey McDonald
                      Pre-K Daily Schedule 2020-2021
8:00-8:10 Arrival & Attendance
8:10-8:30 Opening Circle/Morning Meeting
8:30-8:50 Read Aloud/Lesson
8:50-9:05 Vocabulary/PA/Letters/Journals
9:05-9:10 Cognitive Transition
9:10-9:55 P.E./Conference
9:55-10:00 Cognitive Transition/Restroom
10:00-10:40 Centers/Small Groups
10:40-10:45 Clean Up/Transition
10:45-11:15 Lunch/Oral Language Development
11:15-11:30 Recess/Outdoor Learning
11:30-11:35 Transition/Restroom
11:35-12:00 Read Aloud/Lesson
12:00-1:00 Rest Time
1:00-1:20 Restroom/Snack
1:20-2:10 Centers/Small Groups
2:10-2:15 Clean Up
2:15-2:20 Cognitive Transition
2:20-2:50 Recess or Centers
2:50-2:55 Transition/Restroom
2:55-3:10 Closing Circle & Read Aloud
3:10-3:20 Cognitive Transition/Dismissal
Miller Grove I.S.D. Pre-K 4 School Supply List  2020-2021
 1  package 9×12 construction paper
8  small glue sticks
1  small bottle Elmer's liquid glue
1  tray of water colors
2  boxes of Kleenex
1  plastic crayon box
1  box of 24 crayons
1  large nap towel
1  nap mat
1   backpack
4   Clorox wipes
2  large pencils
1   1/2 inch 3 ring binder with clear pockets on front & back (your choice of color)
1   white 1 inch 3 ring binder w/clear pockets on front& back
1  wide ruled spiral notebook
1  water bottle
1  box quart size zip-lock baggies
1  notebook zipper pouch
Pre-K 4 Classroom Rules
Eyes Looking
Ears Listening
Hands Helping
Feet Walking
Voices Quiet