Athletics
UIL Information and Forms
Volleyball two a days will begin August 1.  7:00-9:00 & 11:00-1:00.
All athletes entering grades 6, 7, 9, 11 will need to get a physical before they can participate in practice.
Lady Hornets 2015 Cross Country State Champions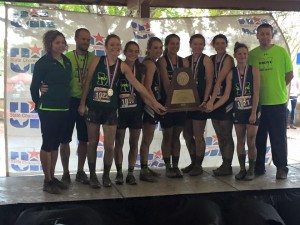 Alex Zeigler, Candace Earp, Ashley Purser (7th Place Individual) , Kayleigh Lester, Aleigh Bessonett, Rosa Schones, Cassidy Seaney. Coaches: Ana Billingsley, Gary Billingsley, Richard Ramsey
Hornets 2015 Cross Country State Runner Up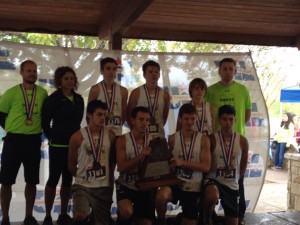 Back: Luke Brignon (5th Individual), Grant Sharp, Grant Earp, Front: Brennan Green (7th Individual), Trey Lester, Jake Pelerose, Albert Serrano (4th Individual). Coaches: Gary Billingsley, Ana Billingsley, Richard Ramsey
Schedules
Get schedules on your smartphone
You can also get Miller Grove schedules on your iPhone or Android with TEAM APP. Find out more information at teamapp.com or search in the app store on your device. Once the app is downloaded, you can search for Miller Grove under Find a Team.
Miller Grove HS Cross Country Ring
Results
Cross Country Meet – Sept. 15, 2016
Cross Country Meet – Sept. 17, 2015
Cross Country Meet – Sept. 18, 2014