Starting Off the New School Year With Dreams and Goals
Lady Hornets Fighting to Get to The Top
Volleyball season has begun! The Lady Hornets have played nineteen games so far and have won fourteen of them, so their record is 14-5 at the moment. They have three seniors (Alexis Serrano, Cara Ford, and Rosa Schones), two juniors (Katie Williams and Alexis Green), three sophomores (Lauren Bullard, Alexa Pelerose, and Harli Watson). They are leaving Thursday, August 30 to travel to Whitney in hopes of being the champions of the Whitney tournament. They are super excited about this upcoming season and their end goal is to make it to the state tournament, where they were two points short of being last year. The next home game is September 8 against Cumby to start off district at 5, so come out and support the Lady Hornets!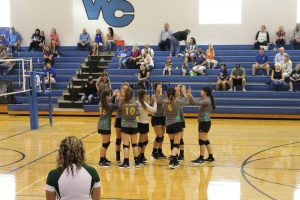 Hornets' Thoughts on Clear Backpacks
Recently, we interviewed some people for their opinion on the new clear backpack requirement. We interviewed a new teacher, a teacher who has been here for years, a sophomore, and a sixth grader. Here are their thoughts.
"It is a great idea because transparency is key to success and great for safety."- Mrs. Bryant (Theatre/English)
"I do not know about the clear backpacks, they break easily, they should manufacture better, but they are a good idea." – Mrs. Smith (JH Math)
"They are okay, but some break too easily." – Gabe Hayden (6th grade)
"They aren't that bad, but I feel like it is kinda an invasion of my privacy." – Jocelyn Helterbrand (10th Grade)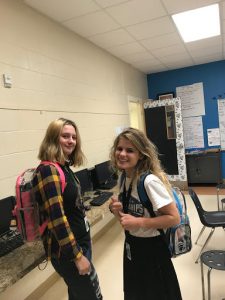 Hayley Wren and Cassidy Seaney showing off their clear backpacks.
Robotics Kicking Off
The robotics team is kicking off the 3rd year by going to the Season Kick off at John Paul II High School in Plano, TX on September 1st. The theme for this year is "Current Events". Good luck for the 2018-19 Robotics team!
Racing To Be First
The boys and girls of the cross country team have started off to a rocky, but good start. The boys team consists of Isaiah Billingsley, Lance Davis, Tanner Hensley, Lexton Sly (freshman), Kobe Robertson, Matthew Brignon (sophomores), Grant Earp, and Grant Sharp (seniors). Currently, Kobe Robertson has not been able to run because he may have shin splints and has been having pains in his shins, but he plans to be back soon. The girls on the team are Lainy Burnett (freshman), Lauren Bullard, Alexa Pelerose, Jolee Fox, Jorja Bessonett, Harli Watson (sophomore), and Cassidy Seaney (senior). Jorja Bessonett is out right now due to an injury to her hip and Lauren Bullard is pushing through the pain from an knee injury that happened earlier in the season and a sprained ankle that recently happened before she had to go to a volleyball tournament. Both the boys and girls are fighting to stay at number one as they are ranked right now. The girls are on the road to redemption, while for the boys, it is nothing personal.
Miller Grove will be hosting a cross country meet on September 13th. Come out and support our Hornets and Lady Hornets as they race their hearts out!
We all hope y'all all have a good 2018-2019 school year and good luck!