Miller Grove Elementary students have been raising money for the PTO Superhero Fun Run which will be Monday, may 20th.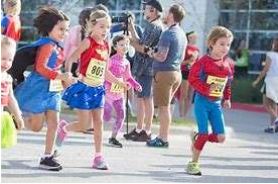 The Superhero Fun Run is a school fundraiser to help promote health and wellness with our elementary students and raise money for our school programs as well!
This year the funds raised are being used to buy athletic and playground equipment and items to wrap the Gym doors with school spirit.
ALL STUDENTS participate in the Superhero Fun Run. If your student is unable to get sponsors they still participate. We want all our students to have a fun time and no student will be left out. Please keep in mind this is a fundraiser and we would appreciate your efforts in gaining sponsorship donations. Every dollar goes a long way.
Fundraising is down by registering online, or the good old fashion way. You can register them online at https://www.getmovinfundraising.com and share with friends and family thru email, texts, Facebook, etc. Then there is the good old fashion way. Call up friends, family members, church members, and ask if they would like to sponsor your student. If you collect sponsorships by check or cash this way then please put their money in an envelope or baggie with their name on it and send it to school or drop it by the Elementary office.
Please note, ALL SPONSORSHIP MONEY IS DUE MONDAY, MAY 20TH.
The Fun Run will be this MONDAY May 20th during school. Students will need to wear their favorite superhero costume or t- shirt and running shoes.
We are looking forward to a really Super Fantastic Fun Time on Monday!