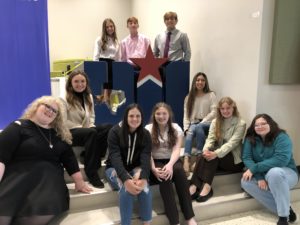 Miller Grove High School Academic UIL competitors showed up at the Regional contest with winning in mind. Of the ten who advanced to Regionals from the District level, the academic team walked away with a total of six medals, three students who are moving on to the state level, and the Speech Team won overall second place. The results were:
Bailee Shipp 5th place in Poetry
Addison Stanton 4th place in Prose
Jamilyn Hensley 2nd place in Ready Writing, advancing to State.
Jolee Fox 5th place in Persuasive Speaking, 1st place and undefeated this debate season in Lincoln Douglas Debate, advancing to State
Jagger Qualls 2nd place in Lincoln Douglas Debate, advancing to State
2nd Place Speech Team: Bailee Shipp, Addison Stanton, Kayti Brignon, Kavan Smith, Jorja Bessonett, Jolee Fox, and Jagger Qualls
Congratulations to the whole Academic UIL team!!