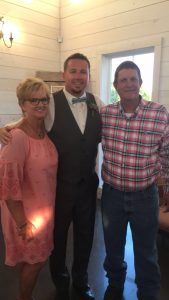 Hello! My name is Blake Hill.  I am excited for my third year at Miller Grove.  This is my 10th year in education (8 have been spent here in Northeast Texas).   I will be teaching 7th grade Texas History and 8th grade Social Studies.   I am the Head Girls Basketball and Head Boys Baseball Coach, and will be assisting with Cross Country and Track.
I enjoy being outdoors, attending concerts, pizza/wings, the Dallas Cowboys, Texas Rangers, Dallas Mavericks, and am a huge Jimmie Johnson (48) fan.
Pictured above:  my Mom (Deanne) and Dad (Mark)
Bachelors of Science in Kinesiology, Minor in History – Stephen F. Austin State University- 2008
Master of Science in Kinesology, emphasis in Adapted Physical Education/Activity- TWU-Denton-2010
1st Period- Junior High Girls Athletics
2nd Period- Texas History- 7th Grade
3rd Period- US History: Early Colonial through Reconstruction-8th Grade
4th Period- Yearbook
5th Period- High School Boys Athletics
6th Period- 5th Grade PE
7th Period- Junior High Boys Athletics
8th Period- High School Girls Athletics
Believe, Trust, Do!
Miller Grove 8th Grade United States Social Studies
Exploration- Reconstruction
1st 9 Weeks
Unit 1- Colonial Heritage (Ch 1-4)
Unit 2- A New Nation (Ch 5-7)
*10/8-  9 Week Test/Mini-Benchmark (Only questions that we have covered will be graded)
2nd 9 Weeks
Unit 3- New Republic (Ch 8-11)
Unit 4- The Nation Expands (Ch 12-15)
12/4-12/18 Review- America The Story of US to Age of Jackson
9 Week Test=Semester Test/Mini-Benchmark (Only questions that we have covered will be graded)
3rd 9 Weeks
Unit 5- The Nation Breaks Apart (Ch 16-17)
4th 9 Weeks
Roots Project- 3/15-3/26
3/29-4/2- Units 1, 2 Review
4/19-4/22-Units 3, 4 Review
4/26-4/30-Units  5, Bill of Rights Review
5/4-5/7- 8th Science and Social Studies Tests