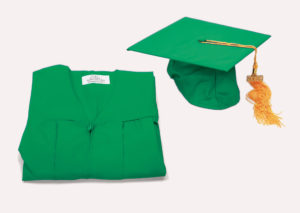 Hello MGHS Class of 2024 Students and Parents,
We hope that your Senior year is going well and will be all that you have worked and hoped for.
MGHS has a lot of traditions and Graduation is the culmination of them all. Graduation recognizes all of the hard work you have put into earning your diploma. Participation is a must as it gives family and loved ones the opportunity to celebrate with you in this accomplishment.
Cap, Gown and Tassel are required to participate in the graduation ceremony and will need to be ordered by January 15th.
Caps & gowns and other graduation items are ordered online or in our office located at 2511 Ridgecrest Rd Greenville, Texas. To help make it easy and convenient for your online ordering, we have a text line that is answered from 8:00 am to 9:00 pm 7 days a week (903.380.5544). Our local website www.balfour1.com will give you additional contact and ordering information. We have included some of the information below to get you started. Don't forget your Class Ring if you have not taken the opportunity to order it. See links below for it as well.
Have an Amazing year and we look forward to being of assistance.
Balfour – Greenville
Ordering:
https://balfour1.com/miller-grove-hs/
Balfour Class of 2024 Brochure:
https://issuu.com/balfour/docs/sy24_gradproducts_brochure_issuu?fr=xKAE9_zU1NQ
https://issuu.com/balfour/docs/sy24_jewelry_brochure_issuu?fr=xKAE9_zU1NQhttps://issuu.com/balfour/docs/sy24_jewelry_brochure_issuu?fr=xKAE9_zU1NQ