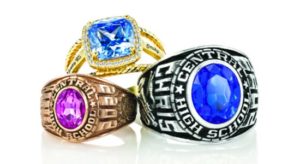 Hello MGHS Hornets,
We hope that the start of school has gone well for you and your off to a great start.
MGHS has a lot of traditions and one of them is the designing and ordering your class ring . This is a tradition that signifies your high school memories in a ring designated for your class .  Class rings can be ordered online or in our office located at 2511 Ridgecrest Rd Greenville, Texas.  To help make it as easy and convenient as possible for ordering online, we have set up a text line (903.380.5544) that is answered form 8:00 am to 9 pm 7 days a week. Our local website is www.balfour1.com that will give you additional contact and ordering information. We have included some of that information below to get you started. A class ring sizing link is located on our website.
Have an Amazing year and we look forward to being of assistance.
Balfour – Greenville
Ordering:
https://balfour1.com/miller-grove-hs/
https://issuu.com/balfour/docs/sy24_jewelry_brochure_issuu?fr=xKAE9_zU1NQ
https://balfour1.com/wp-content/uploads/2023/09/SY24_HS_Jewelry_Video_Juniors-1.mp4